Is It Time To Splash Out On A Swimming Pool Refurb?
A swimming pool refurb is a chance to clean, repair and improve your pool. If your pool has been neglected for a while, it could be a means of getting it back into usable condition. If you've been using your pool regularly and maintaining it, a refurb could still be valuable after several years of fixing up wear and tear. You may also come to a point when you simply want to change the colour of your pool or add new features. A refurb could be an opportunity to make all these improvements at once.
Swimming pool refurbishments are generally worth carrying out every 10 to 15 years. Below are some of the things to consider doing during your refurb.
Drain the pool
While regular water treatment can keep the water in your pool clean and safe, total dissolved solids (TDS) may still build up over time. These are hard to filter out without almost completely draining the water and refilling your pool.
Draining your pool could be worthwhile if your pool has been neglected for a while – once the water looks visibly dirty and discoloured, water treatment may no longer be enough. Draining your pool could also be necessary if you decide to resurface the pool.
A common way to drain a pool is to use a pump and transfer the water into the sewer. This guide offers more information about draining a pool.
Replace old filters and pumps
Electronic parts like filters and pumps may eventually stop working after years. Pumps generally last 8 to 10 years – if you haven't replaced your pool's pump for a decade, it could be worth doing this.
Even if these parts haven't completely broken, it's possible that they may not be working as efficiently. This guide lists a few signs that your pool pump may need replacing.
Your pump will likely need to be replaced by a professional. Make sure that you choose the right pump.
Check the surface for damage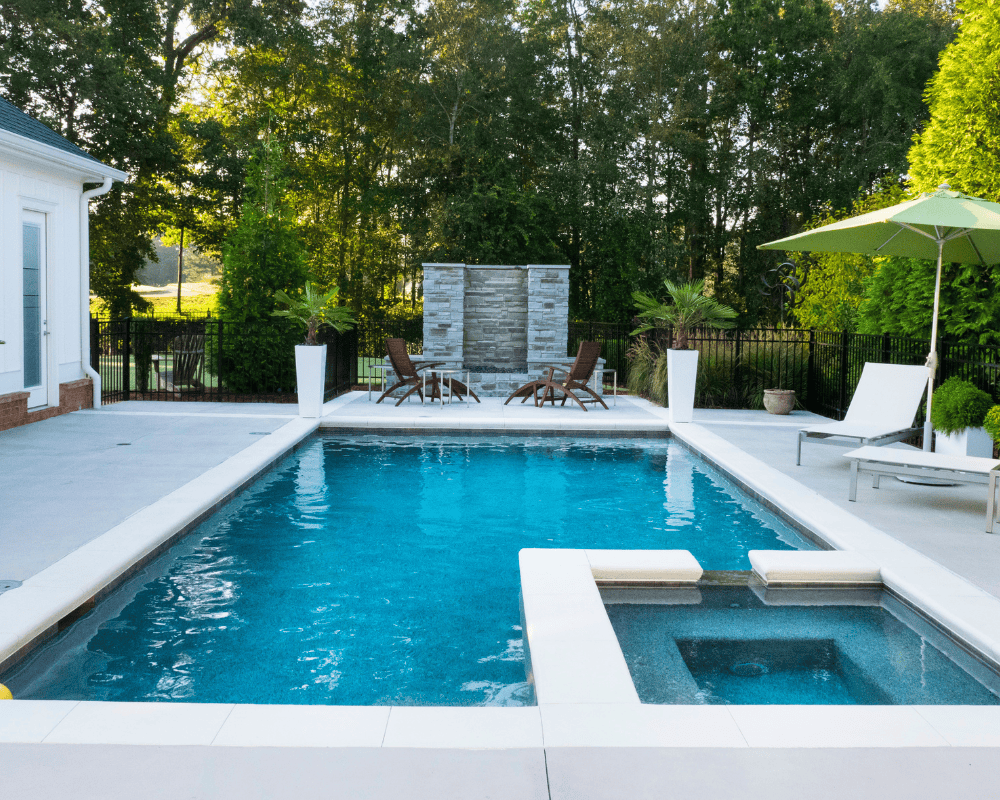 Any damage to the surface or lining of your pool will need to be repaired. Stains, cracks and corroded tile grout are all things to look out for. Unexplained loss of water from your pool could also be due to a leak and a sign that the pool may need to be resurfaced.
There are companies that can resurface your pool for you. This task of resurfacing a pool can vary depending on the type of surface – tile, vinyl and fibreglass all require different maintenance.
Repaint your pool
If the surface of your pool is painted and this paint is starting to fade or peel, it could be time to repaint it. Alternatively, you may decide it's time to repaint if you no longer like the existing colour of the pool and want a fresh look.
You can buy pool coatings and repaint the pool surface yourself. Alternatively, you can hire a professional to do it (if you're hiring a pro to resurface your pool, you may as well pay them to repaint it too).
Install a slide or diving board
Is it time to add some new features to your pool? There could be all kinds of fun features to consider, including slides, diving boards, waterfalls or lights.
Not every pool may be able to incorporate these features without making some major improvements. For example, a slide or diving board may not be suitable if the pool is too shallow – make sure to look into the minimum legal, safe depth.