Shower wall material ideas 
I don't know about you, but in my family, the shower area gets a lot of daily use from the soapy water and soap scum, especially with teenagers in the house. When designing a bathroom or DIY project the material you choose for your shower, wall surrounds and shower floor will have to be considered with care for the best choice. Not only will you want it to be a unique look but it has to stand the test of time, be durable, waterproof and free from mould growth.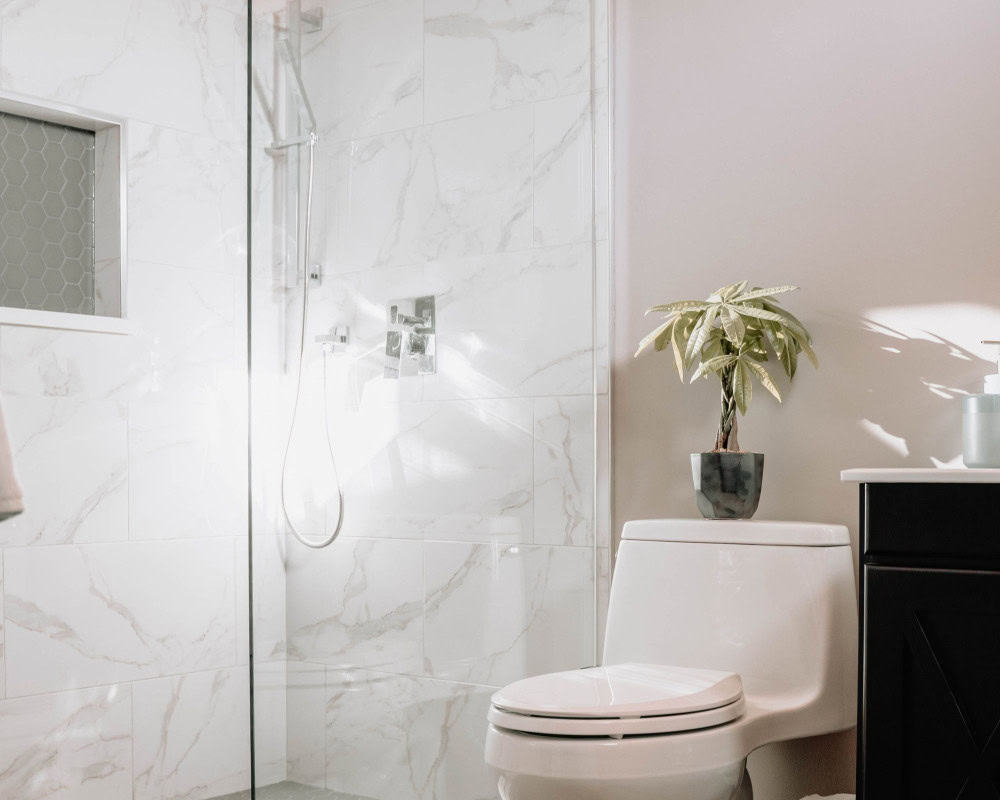 Several types of tiles and materials can be used for new shower walls, so before you decide on one, take the time to have a browse at some popular options and the best materials for shower wall ideas. You will want to think about the cost, how it will look? Do you require tile walls, shower wall surrounds or maybe fibreglass panels. The installation is an important factor also how durable the shower wall will be. Maybe even consider adding glass shower enclosures with shower doors for the shower stall to let in natural light.
Here are just a few best shower wall material ideas:
Ceramic tiles
When we think of bathroom design also bathtub surrounds most of us will immediately think of wall tiles. Ceramic and porcelain tiles are both great options for a shower wall and provide a classic look and low maintenance. The good news is these tiles come in an array of sizes, colours, and textures, and can be mixed and matched with shower wall products to suit your style. Although some tiles can work out being expensive, you could always go for a neutral white tile and add in some fancier ones too. Ceramic tiles work so well as they are waterproof, non-porous and easy to clean. Tiles are also far easier to install yourselves and can easily be replaced if one gets damaged.
Stone tiles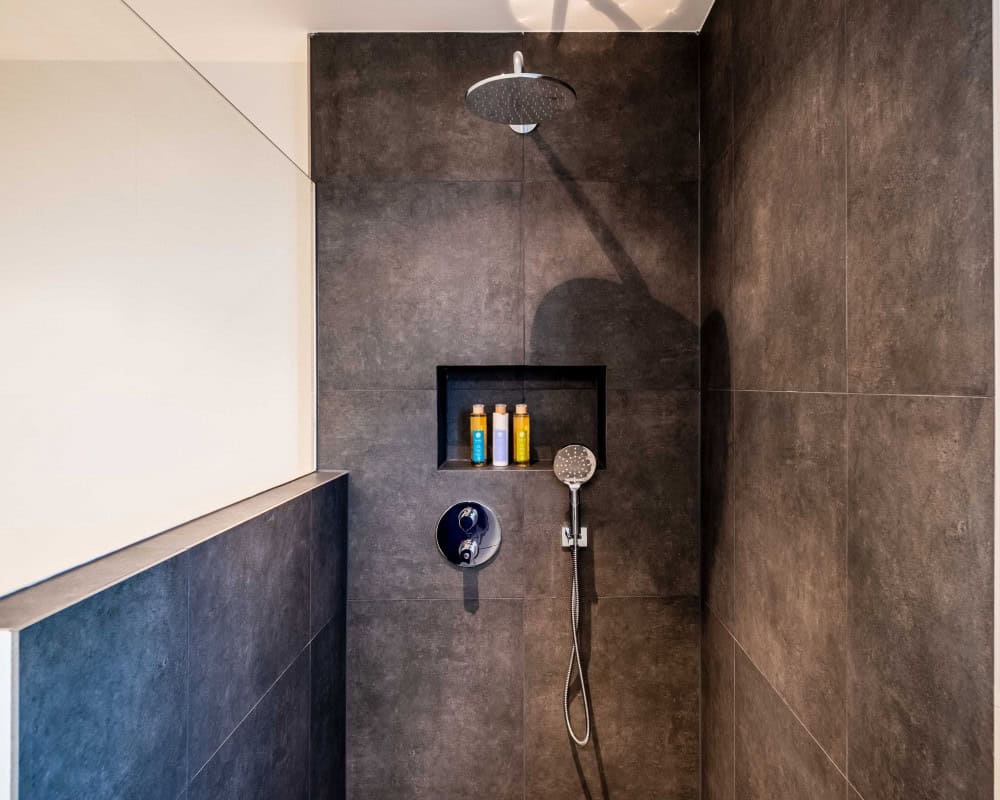 Slate, marble, granite and travertine tiles all look fantastic, natural materials and provide a solid surface on a shower wall or even a complete shower room but each type of stone has its pros and cons. Marble shower walls in the right place look amazing and grand but are prone to staining. Slate is very durable, and will give a modern look but can be difficult to install. Travertine has some lovely colours, but can easily become scratched and stained. Stone tiles are also more expensive but can be attached in a large sheet to give the shower wall that high-end look. Stone tiles on the wall are more aesthetically pleasing than they are practical.
Glass tiles
The best solution for an elegant look in your shower or shower wall options could choose glass tiles for your wall and floor tile. Glass tiles can be plain, printed or you can even get mosaic glass tiles in a variety of colours. Like ceramic tiles, glass tiles can give the look of large tiles and are easy to keep clean with a soft cloth and stain-resistant. They are also readily available on the market and are of a non-porous material and help to reflect light around your bathroom.
Acrylic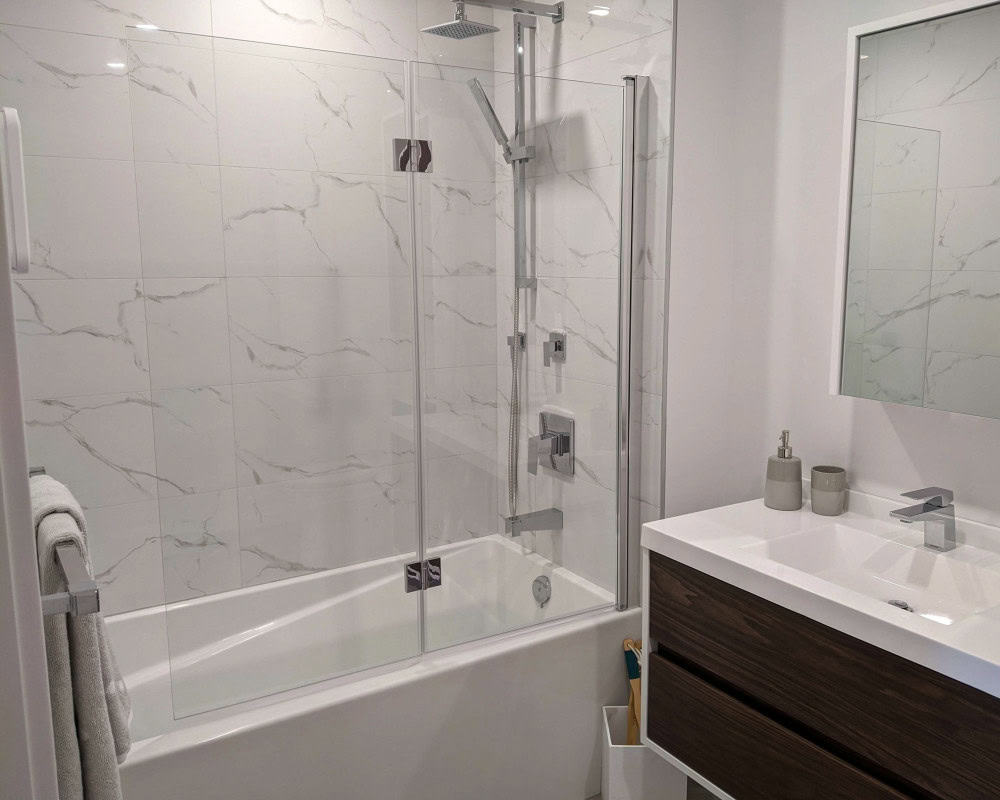 Fibreglass and acrylic shower panels provide a flat surface and are one of the most efficient and durable, low-budget shower walls you can go for. The acrylic look walls of these showers are built in a factory using moulds and arrive at your home in a one-piece unit to provide a seamless look without grout lines. Acrylic shower walls are a great alternative and ideal in smaller bathrooms as they are less expensive than the other options. They are a popular choice and come in a variety of colours. They are a good alternative and can give the look of tile but are also easy to install and can have inbuilt shelves and soap holders which is very practical indeed, a common choice and a great option. While ideal for a bathroom project and of a seamless nature it is not however resistant to scratches, saying that acrylic material is still fairly durable and the main thing is it could last you a very long time if you look after it and a brilliant alternative to bathroom tiles.
If money was no option what type of shower wall would you go for – white marble maybe? I think I would love natural wood or glass personally, or maybe even a vinyl wallpaper. A free quote is an option – let us know in the comments.