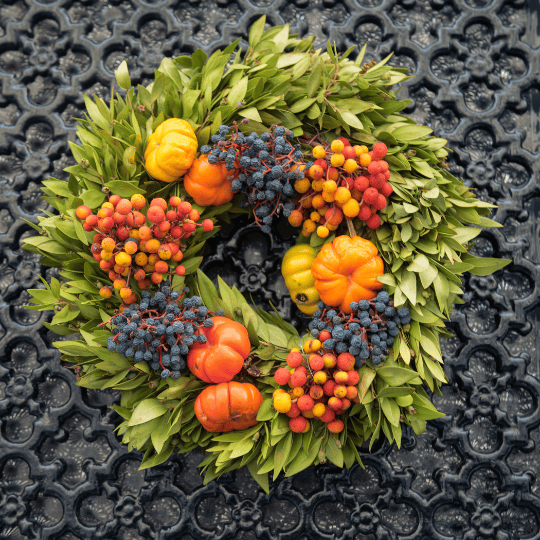 From Nature to Your Doorstep: Create Beautiful Autumn Wreath Today
As the leaves start to change colors and the air turns crisp, it's time to embrace the beauty of autumn and decorate your home accordingly. One delightful way to welcome the season is by crafting your very own Autumn wreath. Fall front door wreaths not only add a touch of seasonal charm with each different look but also create a warm and inviting atmosphere for your home. Below, we'll guide you through the steps to create stunning seasonal wreaths that will welcome guests and make your front door the envy of the neighborhood.
Materials You'll Need: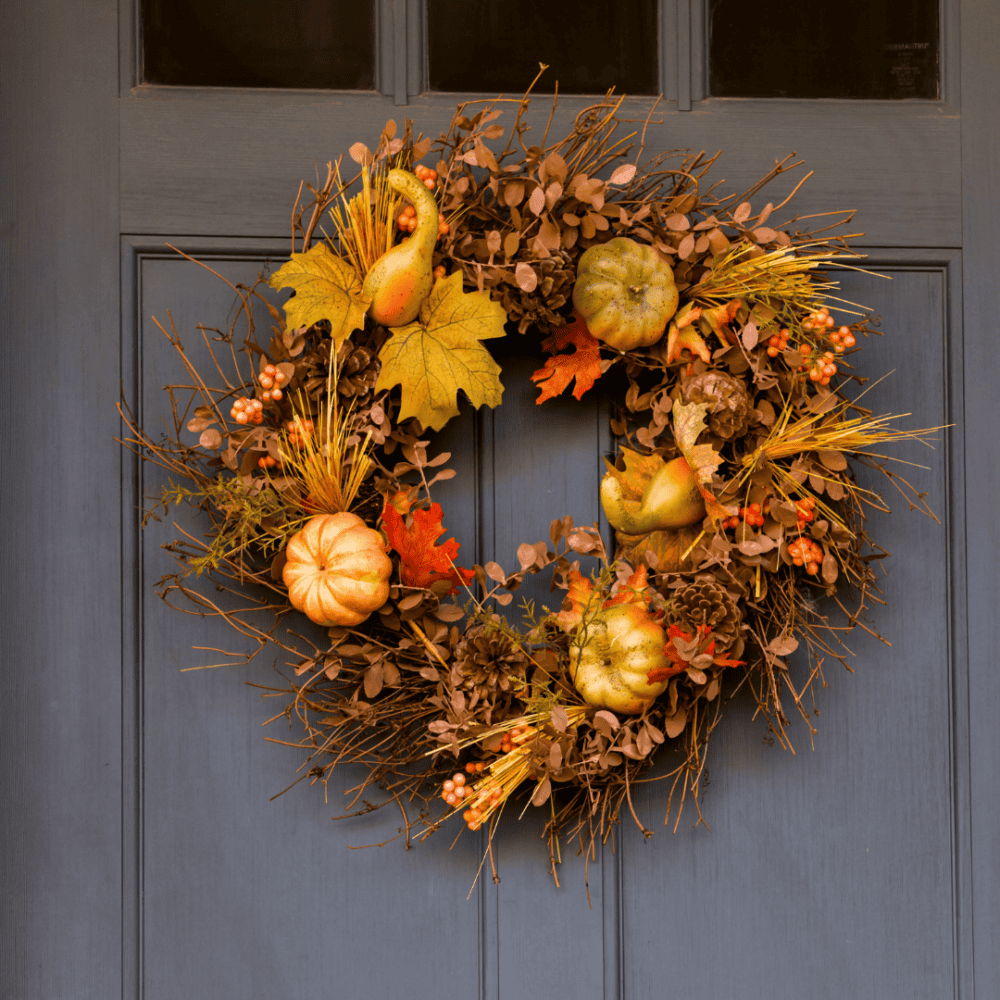 Grapevine wreath base
Creating a beautiful autumn wreath has never been easier thanks to the grapevine wreath base, which can be purchased at craft stores or online hobby lobby. This versatile and natural-looking foundation provides the perfect canvas for showcasing your creativity and embracing the warm colors of the season. With its durability and long lifespan, a grapevine wreath base will keep your front door looking fabulous year after year.
Opting for a natural grapevine wreath promotes sustainability as it won't contribute to landfill waste like artificial alternatives. Harvested from renewable sources such as vines from grape-growing regions or other pruned plants, these bases are not only eco-friendly but also help support local farmers and artisans.
Florist Wire Frame
When it comes to creating an eye-catching autumn wreath, a florist wire frame is one essential tool that can take your design to the next level. This sturdy structure acts as the backbone of your wreath, giving it shape and stability while allowing you to unleash your creativity. With a wire frame, you have the freedom to experiment with various materials such as dried leaves, twigs, berries, and even small pumpkins or gourds. The possibilities are endless!
One of the great advantages of using a florist wire frame for your autumn wreath is its versatility. Unlike pre-made foam wreaths or other rigid bases, wire frames can be easily manipulated into different wreath forms, shapes and sizes. Whether you prefer a traditional circular wreath or something more asymmetrical and free-form, a wire frame allows you to bring your unique ideas to life.
Assorted faux foliage
One unique and inexpensive way to creating an autumn wreath is to use unconventional materials. Look for artificial autumn leaves, branches, and flowers in a variety of colors, sizes, and textures to create a visually appealing wreath. Also, think outside the box and instead of relying solely on traditional foliage like pinecones and dried flowers, consider incorporating unexpected elements into your design. For instance, intertwining twigs or delicate feathers can add an organic touch that brings your wreath to life. This combination of natural textures creates a visually appealing contrast that will make your autumn wreath stand out from the rest.
Another impactful element to include in your autumn wreaths is seasonal fruits or vegetables. Adding mini pumpkins, faux apples, or gourds is the easiest way to create an instant fall vibe while adding depth and dimension to your design. Not only will they enhance the overall visual appeal but they also serve as a delightful nod towards harvest festivals and cozy gatherings.
Wire cutters
When creating a stunning autumn wreath, wire cutters become an indispensable tool for any DIY enthusiast. These versatile tools offer precision and control, making it easy to shape and manipulate various materials used in wreath-making. From cutting floral wire to snipping branches and twigs with ease, wire cutters provide the perfect solution for creating beautiful arrangements that will bring the essence of autumn right to your front porch door.
Hot glue gun and glue sticks
The hot glue gun and glue sticks are indispensable tool when it comes to crafting and is readily available from your local craft store. From creating elaborate Halloween decorations to assembling a beautiful autumn wreath, the hot glue gun allows for precise and effortless bonding. With a firm grip and rapid heating capability, it ensures that everything stays in place while you work on your masterpiece.
But did you know that there are different types of glue sticks available? Standard glue sticks work well for general crafts and projects, but if you're working on a special project like an autumn wreath, opting for high-temperature or all-purpose glue sticks might be a better choice. They offer a stronger bond that can withstand even the harshest outdoor conditions. So whether you want to add realistic-looking leaves or embellishments made from natural materials like pine cones to your wreath, these specially formulated glue sticks will ensure they stay put throughout the new season.
Florist Wire
Florist wire becomes an indispensable tool when helping to transform ordinary materials into stunning works of art. With its flexibility and strength, florist wire provides the perfect foundation for crafting intricate designs that capture the essence of a new fall wreath.
The choice of wire gauge plays a crucial role in the final result. Thicker gauge wires offer more support for heavier elements and larger pieces like pinecones or dried berries, while thinner gauges allow for delicate twists and turns that add grace and elegance to your autumn wreath. As you begin exploring different techniques to bring out the true spirit of autumn in your wreaths, consider experimenting with wrapping colorful ribbons around small sections of wire or even intertwining small LED lights for an enchanting touch.
Silicone Finger Protectors
A great way and another helpful tip when using hot glue guns is to invest in silicone finger protectors. These small accessories provide insulation against accidental contact with hot adhesive, preventing burns and making your crafting experience much safer. By using them, you can confidently apply generous amounts of hot glue onto your autumn wreath without worrying about harming yourself or inadvertently smudging your creation.
Ribbon or twine
To complete the overall effect of your autumn wreath is the choice you make between ribbon and twine to hang the door decoration which can make a significant difference in the overall look and feel of this gorgeous wreath. The choice made can also be affected by the style and period of your house front door.
Ribbon offers a touch of elegance and sophistication, instantly transforming any wreath into a statement piece. Its versatility allows for endless possibilities – from satin ribbons with rich jewel tones to rustic burlap ribbons with delicate lace trimmings, which can often be sourced from thrift stores.
Alternatively, using twine for an autumn wreath lends a charming natural look and rustic flair. The natural fibers of twine perfectly complement the earthy tones often associated with a rustic wreath and seasonal decor. Whether you choose jute twine or sisal twine, its rough texture adds depth and character to your wreath, providing a cozy and inviting atmosphere.
Decorative elements
When creating your beautiful fall wreath consider adding pinecones, acorns, berries, or miniature pumpkins for extra flair. Also consider intertwining twigs or delicate feathers.
Step 1: Prepare Your Workspace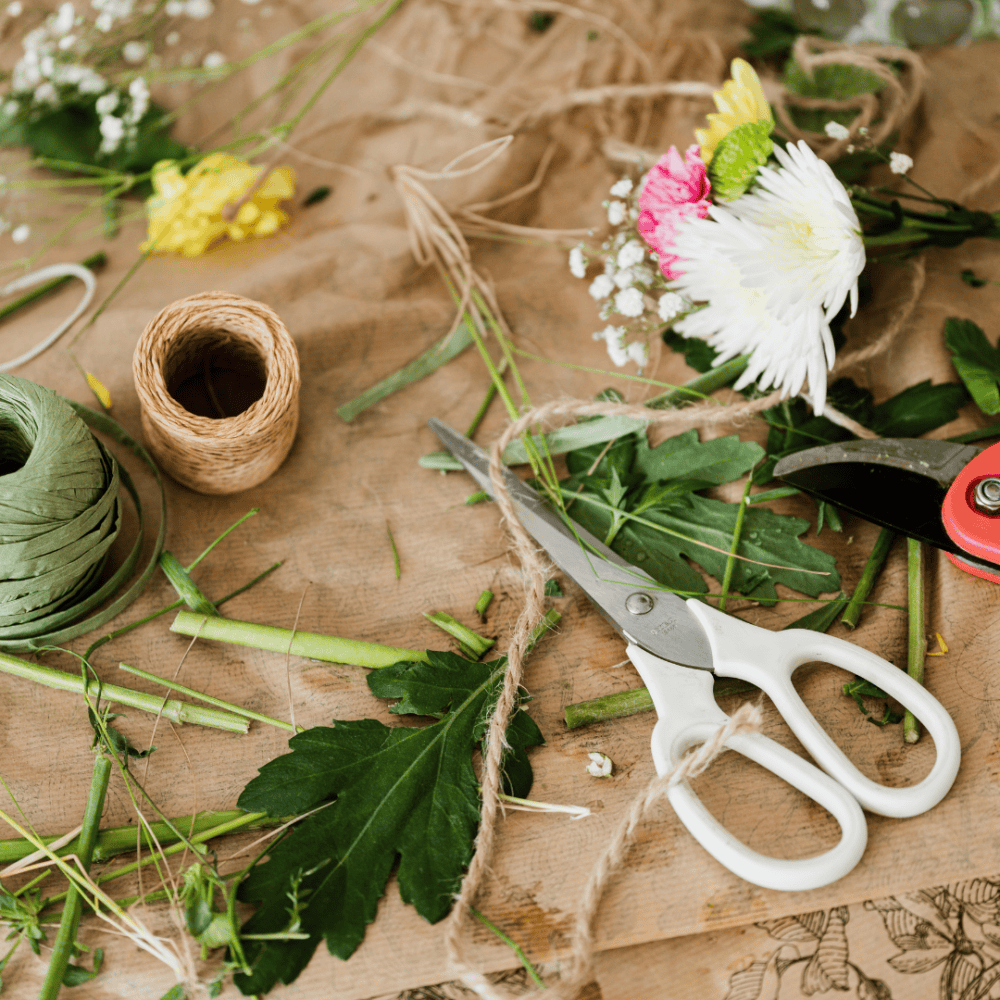 Set up a clean and well-lit workspace with enough room to spread out your materials. Lay down some newspaper or a drop cloth to catch any glue drips.
Step 2: Trim Your Foliage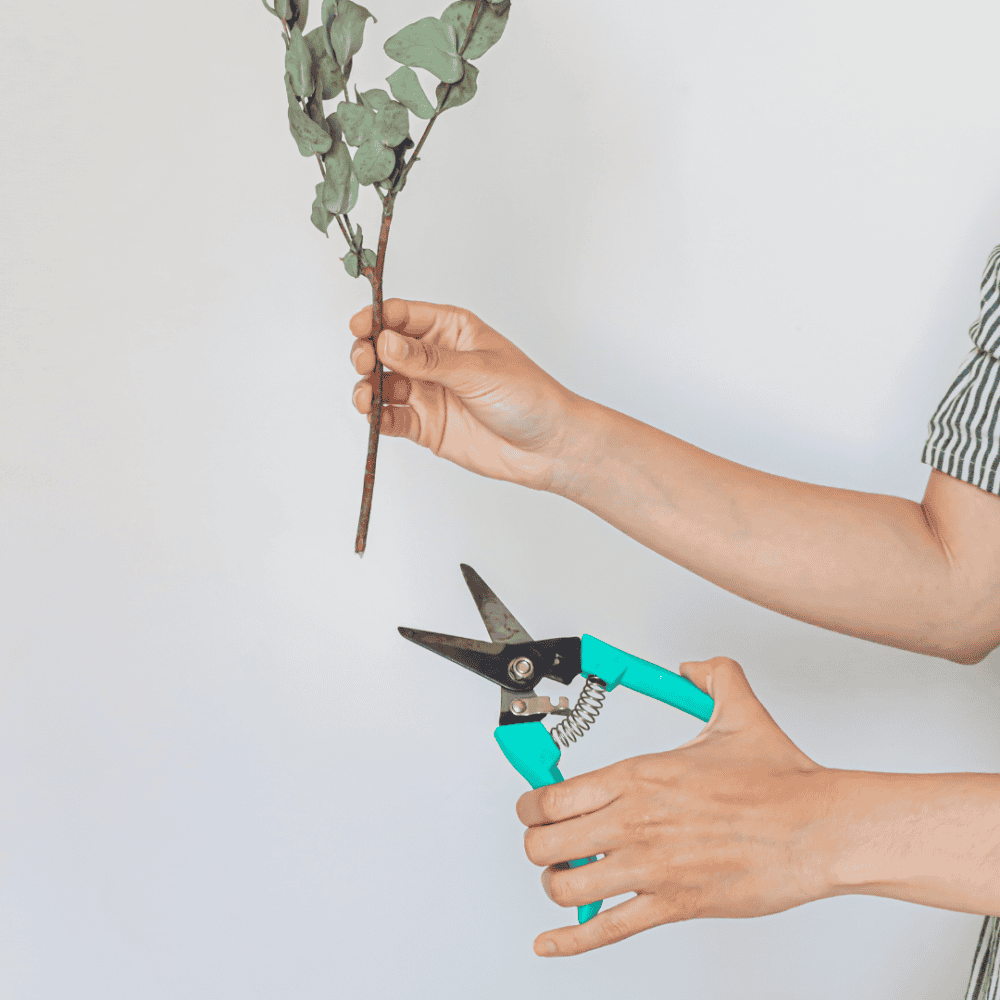 Using wire cutters, trim the stems of your faux foliage or floral stems to your desired lengths. Be sure to create a variety of lengths and angles to add depth and dimension to your wreath.
Step 3: Start with the Base Layer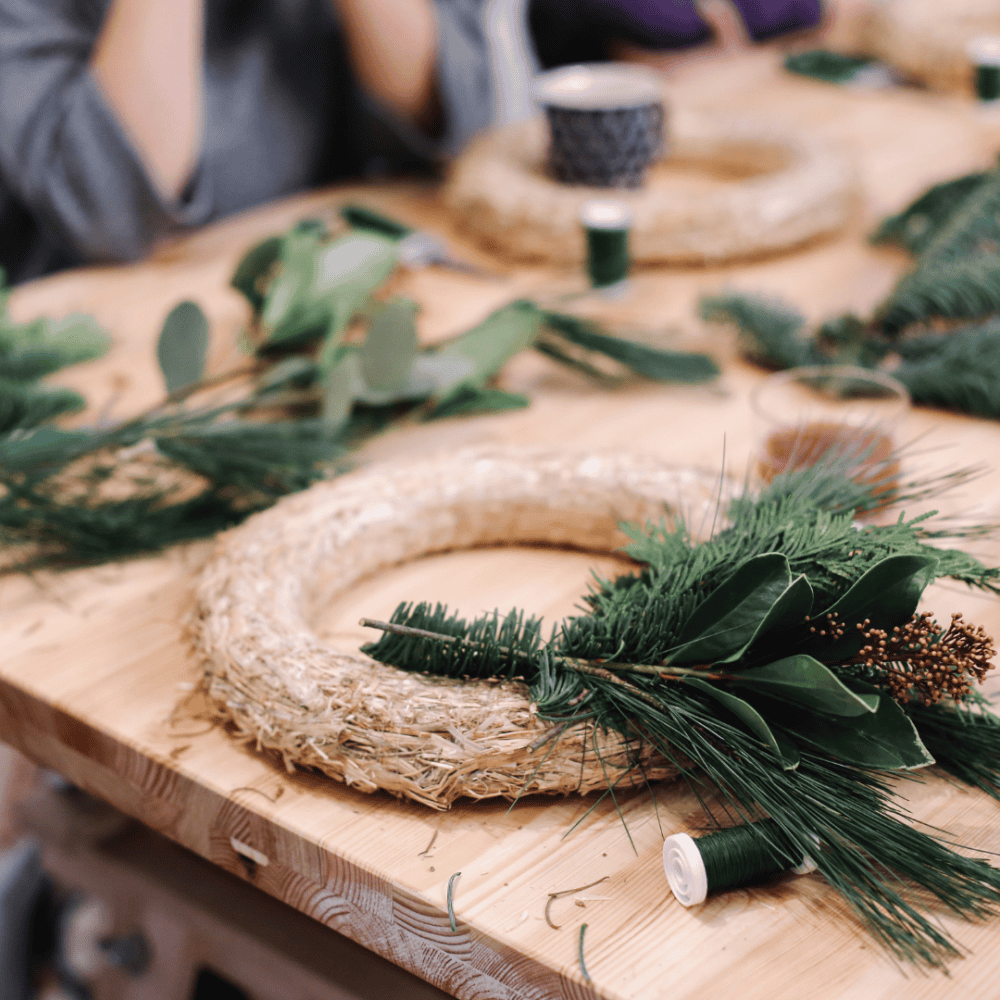 Begin by attaching the larger foliage pieces to your grapevine wreath base or alternatively florist wire frame. Apply a small amount of hot glue to the stem end of the foliage and press it onto the wreath, holding it in place for a few seconds until it's secure, alternatively you can also use florist wire to attach each item. Start at the bottom and work your way around, ensuring that the foliage points outward for a full and lush look.
Step 4: Add Variety with Colors and Textures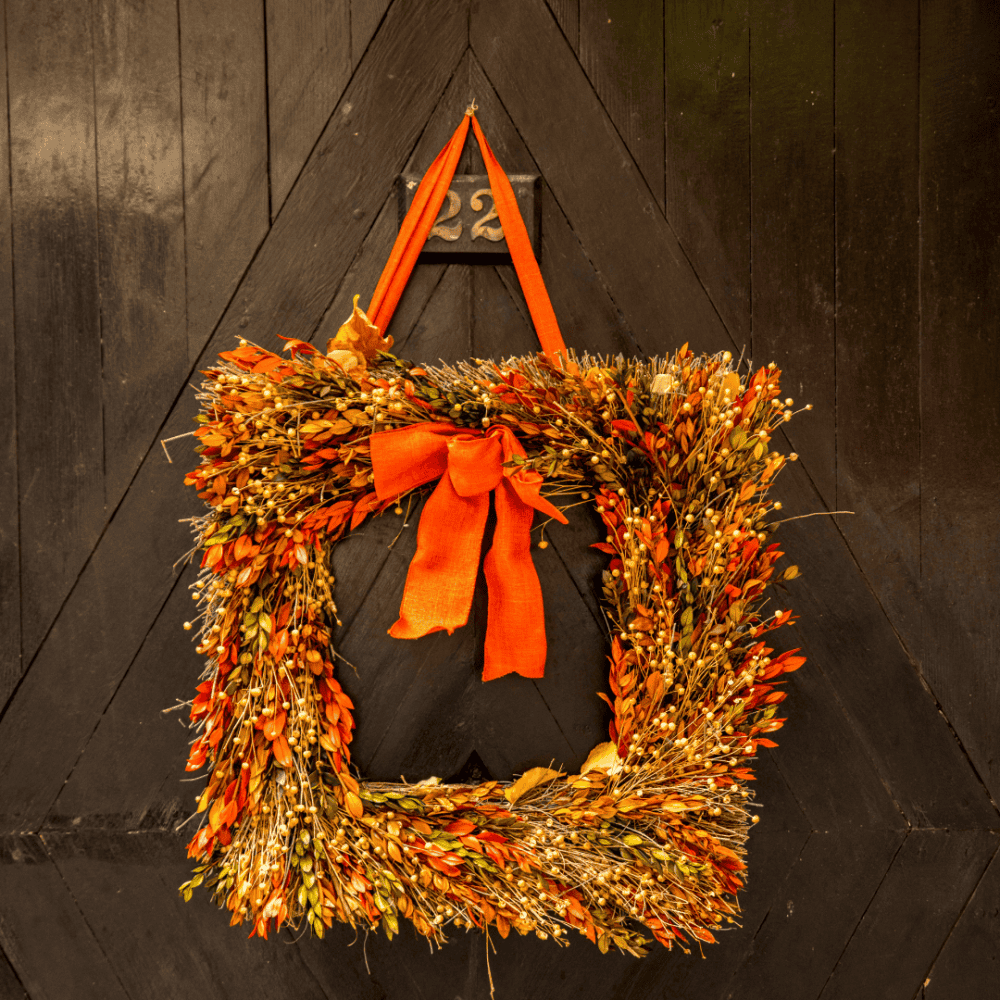 Continue to layer different types of foliage, mixing colors and textures to create a visually appealing perfect wreath. Remember to leave spaces for other decorative elements.
Step 5: Incorporate Decorative Elements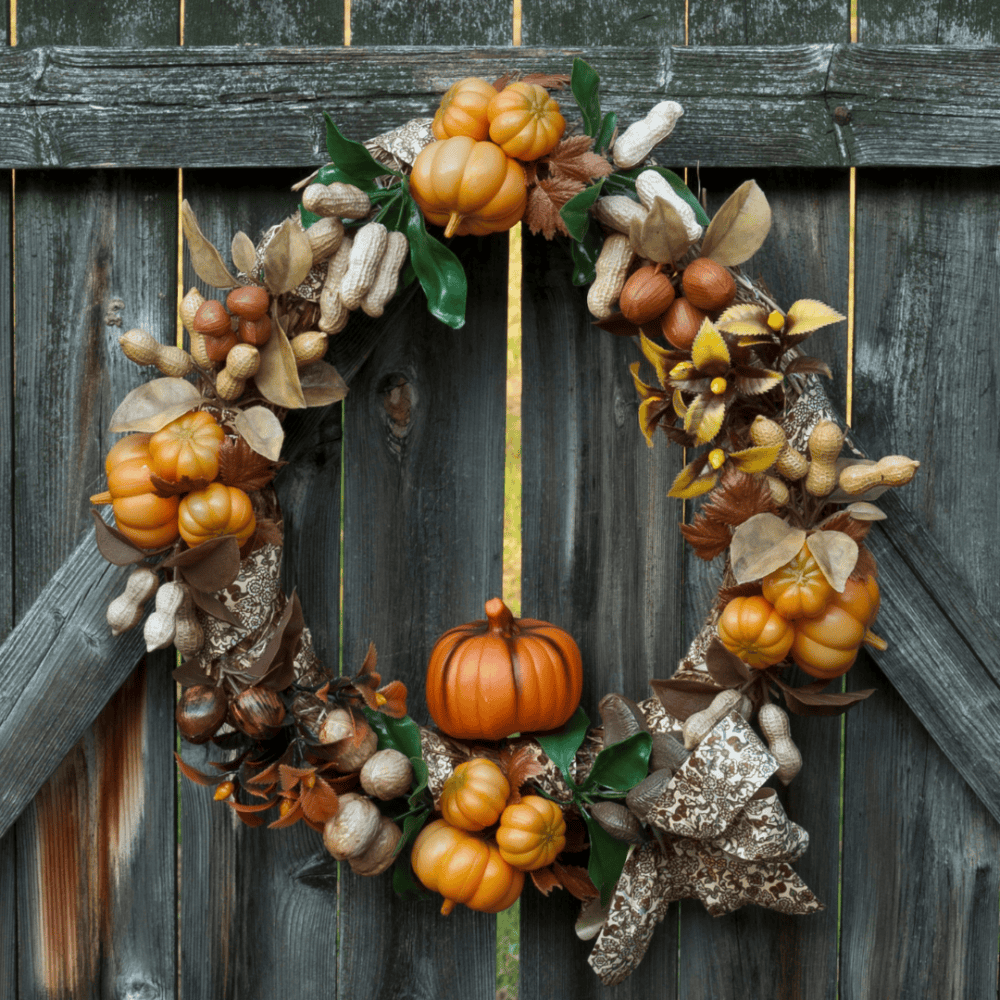 Once you're satisfied with the foliage arrangement, add decorative elements like pinecones, acorns, berries, or miniature pumpkins. Secure these items with hot glue as well, placing them strategically around the wreath.
Step 6: Create a Bow or Loop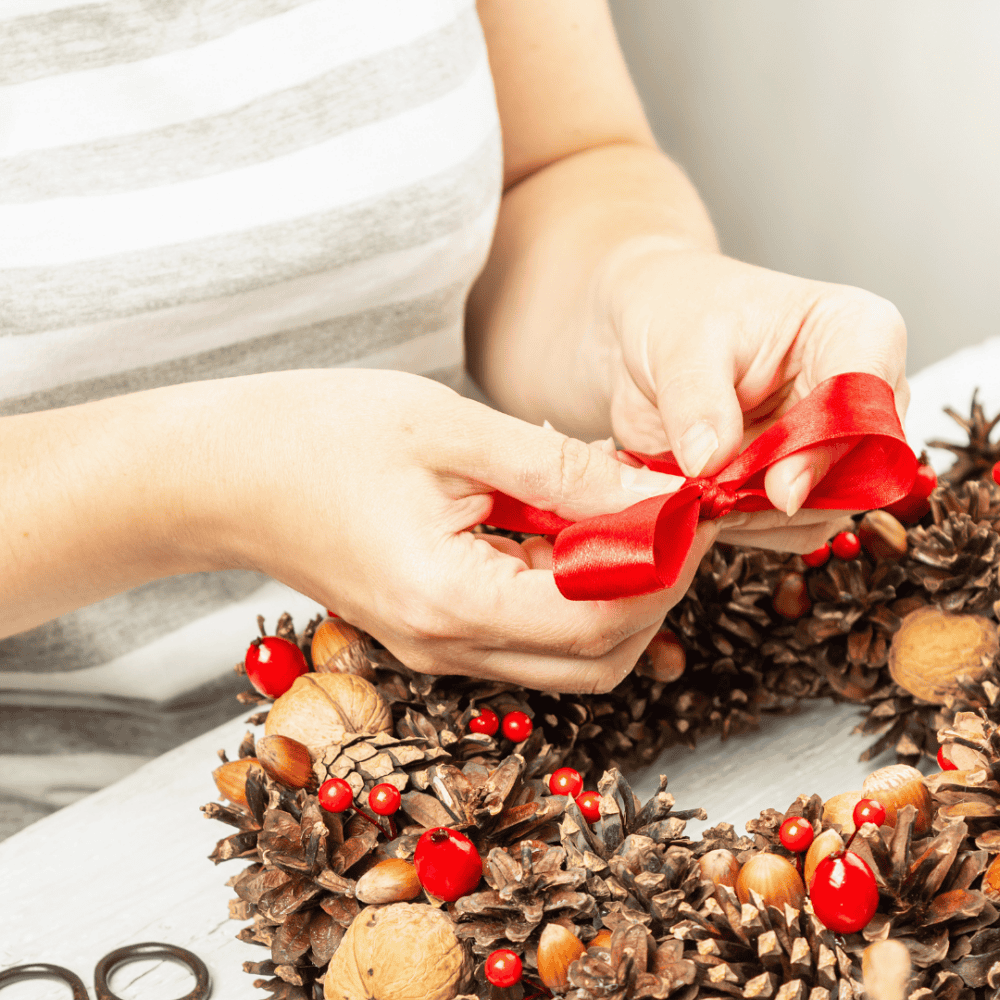 To hang your wreath, first thing, cut a length of ribbon or twine and form a loop. Attach it to the back of the wreath with hot glue or by tying it securely to the wreath base.
Step 7: Final Touches
Inspect the full wreaths for any loose or uneven pieces of foliage, and if found to be stray, this is the perfect time to secure them with additional hot glue if needed. Make sure all the elements are securely attached.
Step 8: Display Your Autumn Wreath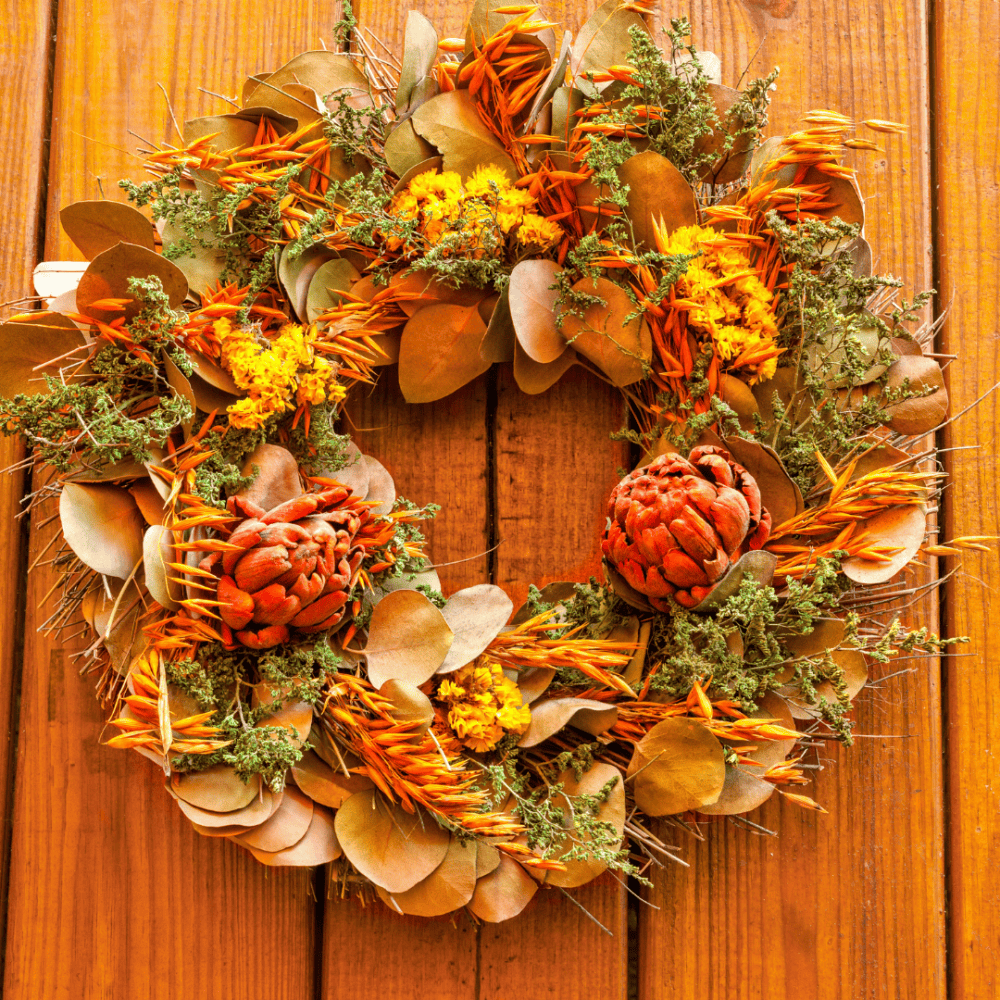 Finally, now that your autumn wreath is complete, it's time to display it in a great place on your front door or covered porch. Hang it securely on a wreath hanger or a hook to ensure it stays in place, and step back to admire your handiwork.
Conclusion
Creating an autumn wreath for your front door made by either yourself or as a team effort with children is a delightful way to embrace the beauty of the season and add a touch of warmth to your home's exterior. With a few simple materials and a little creativity, you can craft a stunning wreath that welcomes autumn in style. Happy crafting!