Rope lighting ideas outdoors 
Rope lighting is a great thing when used either as indoor use for cabinet lighting in a living room or outdoors as they can blend (and bend) around the natural surroundings illuminating your garden into flower beds as soft light and pathways or even surrounding a piece of art.
There are different types, they can be high-quality bright lights and last long term or have less power and only last a season. Some have a unique flexible tube design but rope lights are one of the favourite types of lights to use outdoors as they are so user friendly and effective ways to illuminate. These flexible tube lights are weather resistant and can come in many colours and can easily be connected together or laid against a straight path or pool area.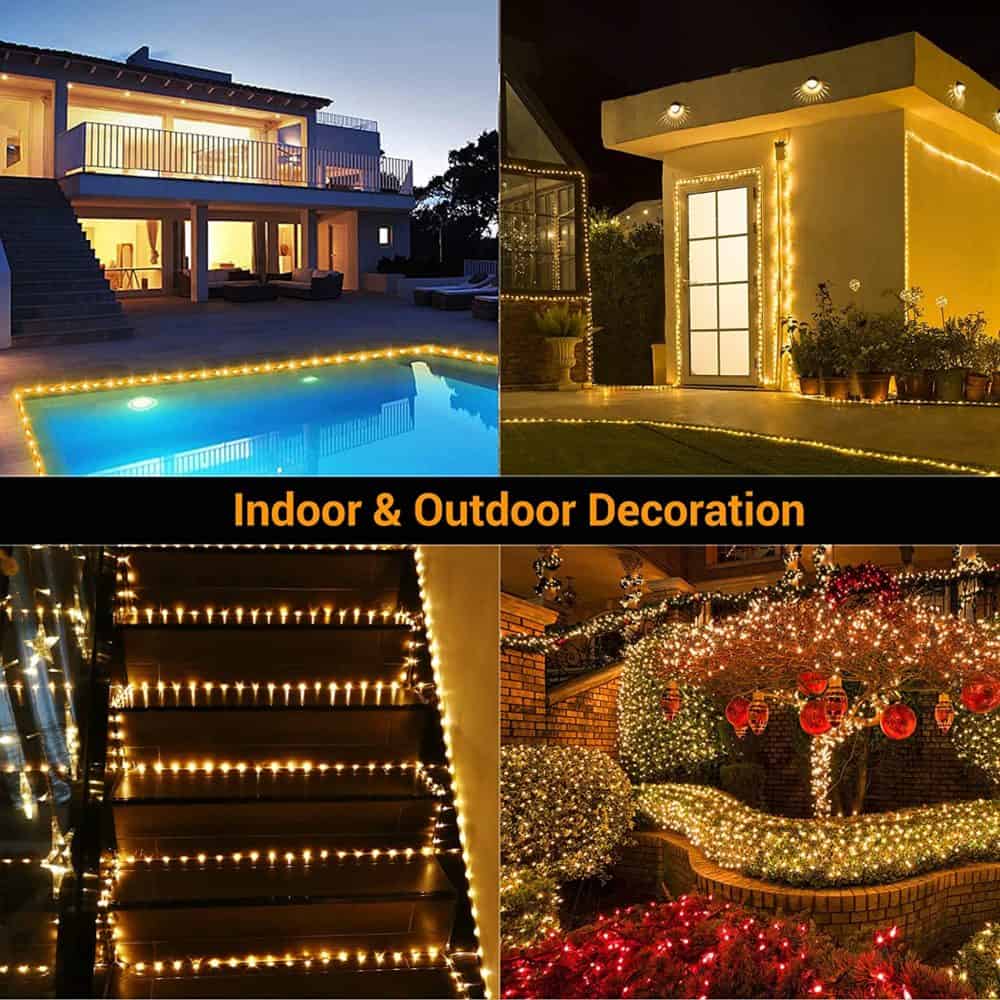 You can have outdoor rope lights with a power cord and power adapter or a solar version which is more cost-effective, there are also ones that are battery-powered and can be installed as lighting fixtures internally too. Quality lights rope lighting should come with a year warranty together with a rope light guide for maintenance and instructions.
Here are just a few ideas and a great way of how you could use rope and strip lighting outdoors and also in a dining area:
The decking
To decorate your decking area, seating area and deck railings for the summer or a special occasion with rope lighting or deck lights you can do a number of things. You can get creative ideas by either wrapping bannisters and the fenced area with string lights which is a great idea as perfect size and have popular choices available. Alternatively, you can clip the LED rope lights underneath the edging of the deck or under the handrail to create a warm ambient glow with the warm white lights. This is a good idea and perfect size and the lights generally come with plenty of length of cable. Different colored lights are also an option for garden lighting and some have a remote control. They come in many different colors also white bulb alternatives are available on the market.
Pathway lighting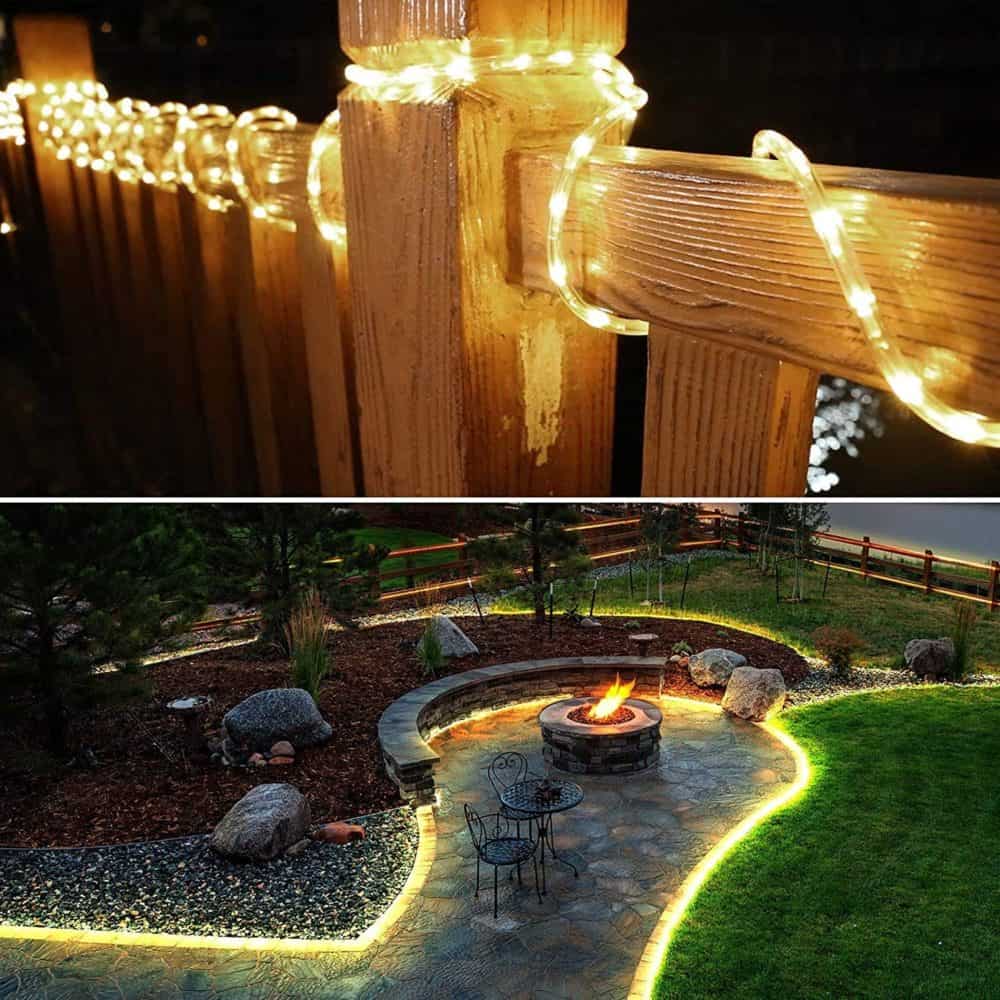 Using rope white bulbs lighting along the edging of a pathway or patio area is a practical and pretty solution and creative way to add mood lighting and give just enough light. You could even choose a colour to accentuate the path with the use of rope lights such as a blue colour which as an ambient light always looks very attractive in a garden. The rope lighting could be held in place with small U shaped clips, which can, in turn, be easily removed and no replacement light bulbs are required.
In the trees
If you have beautiful trees in your garden and want to make a feature of them at night, then adding a clear plastic tube or a white section of rope light or string of lights would work brilliantly. Wrapping the trunk and even some of the tree branches and outdoor area is an easy installation and perfect addition especially for an evening dinner party and will make your garden come alive and a great idea.
Types of Rope Lights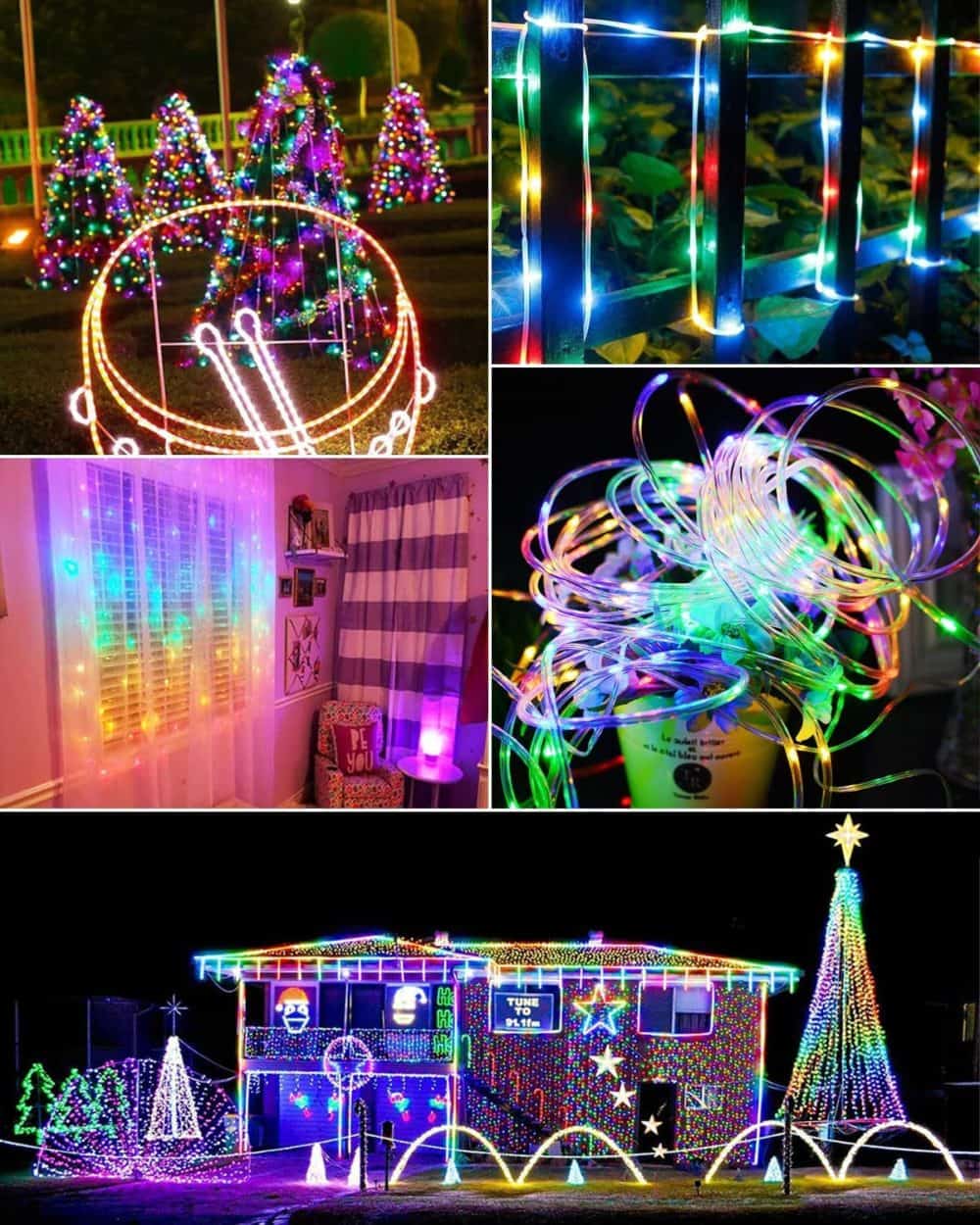 There are many options to create light runs when it comes to rope lighting. You can get battery-powered, solar lights, and electric powered lights with a power connector that can be attached to a waterproof extension cord for your garden and even to attach to a patio umbrella. The White rope light also comes with LED bulbs or traditional incandescent bulbs inside. Do your research, there are many sets and light spools available to buy online, obviously, if you are choosing electric for your lighting projects make sure it is suitable for outdoor use.
Battery powered lights work well if you don't have an electrical plug nearby. Make sure that the casing is waterproof and you'll have to change out the batteries when needed. Battery-powered lights often aren't as powerful as electric lights but there are still many different unique designs available.
Similar to the battery-powered lights which have less energy but great option, the solar rope lights are a first garden staple item for the exterior of your home and is the simplest way to use if you aren't near an electric outlet with less or no power can even be used to illuminate a water feature and outdoor space. The rope light spool is often the best new lighting to use around a tree and its branches.
So, whether you go for some lovely white lights, fairy lights or pendant lights for a dramatic look or a colour changing rainbow on the garden exterior large areas of your home, just have fun with your twinkle lights and LED light ideas and most of all enjoy your project.