Best Coastal decor ideas
If you're looking to bring the calming coastal vibe into your home, then coastal home decor is just what you need. From sandy hues and ocean blues to shell accents and nautical elements, there are endless ways to infuse a beach house feel into your living space. However, with so many best coastal decor ideas available, it can be challenging to know where to start.
We have rounded up some of the best coastal decor ideas that will help you transform any room in your home into a serene seaside getaway. From nautical accents to beachy color schemes, including some fresh blue and white stripes there are plenty of ways to incorporate coastal decor into your home. In this article, we'll explore some of the best coastal decor ideas and how you can use them in your own space.
Why Coastal Decor is Popular
Coastal decor has become increasingly popular in recent years, and it's no surprise why. The idea of bringing elements of the ocean into your home is a refreshing and soothing concept that many people are drawn to. Whether you live near the coast or not, incorporating coastal decor into your home is a great way to create a calming atmosphere and evoke feelings of relaxation.
One of the best coastal decor ideas is using natural textures and materials such as driftwood, seashells, and pebbles to create DIY pieces for your home. These materials add texture and interest to any indoor or outdoor spaces and can be easily sourced from the beach or purchased at a local craft store. Another great idea is incorporating nautical accents of marine life such as anchors, ropes, and sailboats into your decor. These items not only look great but also provide an interesting backstory that adds depth to your perfect place and coastal style design.
Colors of the Sea: Blue and White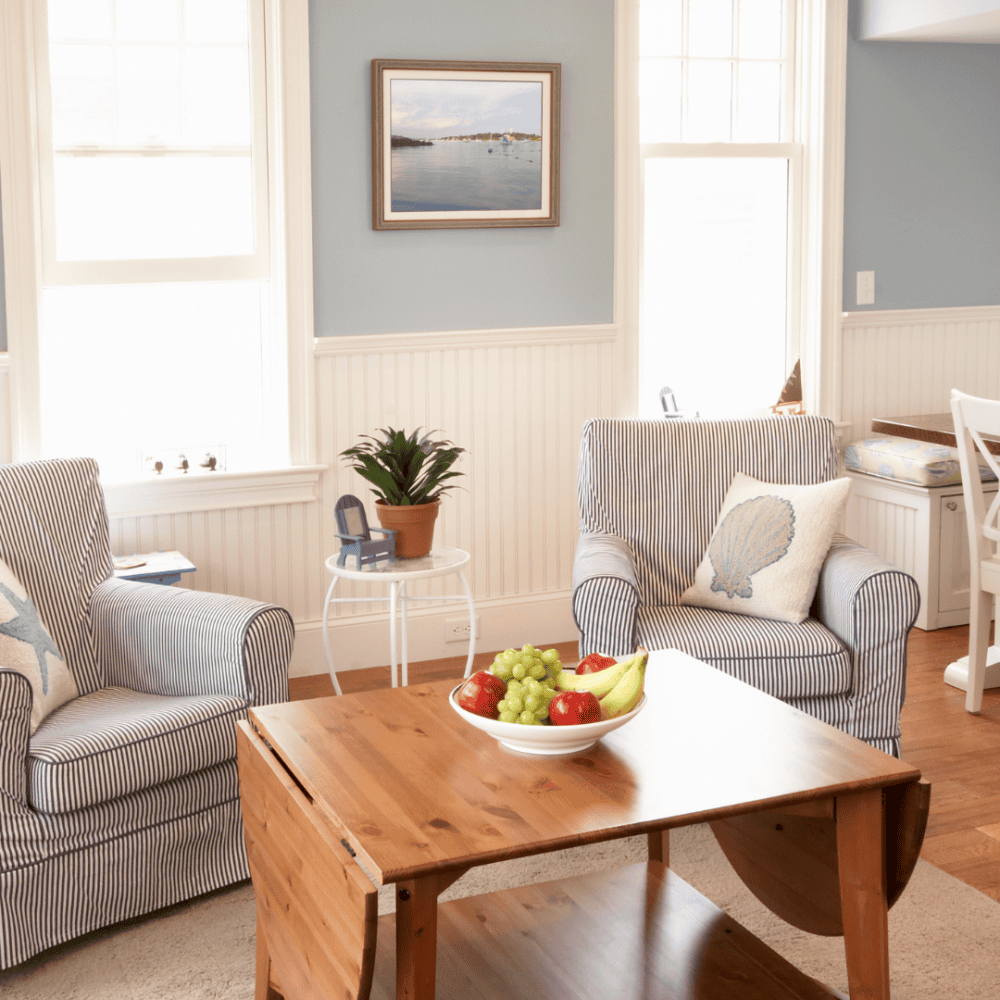 When it comes to the best coastal decor ideas, there's nothing more quintessentially seaside than the colors blue and white against a background of white walls. These two hues have long been associated with the ocean, from the deep blue of the waves to the bright white foam that crashes onto shore. If you're looking to bring a little bit of seaside charm into your home, here are some of our favorite ideas for incorporating these classic colors into your decor.
One easy way to add a touch of blue and white to your space is through accessories like throw pillows, curtains or jute rugs. Choose patterns featuring stripes, polka dots or ocean-inspired motifs like shells and starfish for an extra dose of beachy charm easily displayed on a neutral color palette console table. You can also opt for solid-colored pieces in varying shades of blue and white, mixing light and dark tones for added depth and interest.
Natural Elements: Driftwood and Shells
Natural elements such as driftwood and shells are quintessential materials that evoke the beauty of the palm beach and create a modern coastal design. Driftwood is basically coastal art and fascinating element because it has endured time and nature's forces, leaving behind its unique texture and shape. Its weathered appearance adds character to any space while its neutral tones complement any color scheme. Shells, on the other hand, bring a touch of whimsy and wonder to many best coastal decor ideas with their intricate patterns and delicate beauty.
One way to incorporate driftwood into your coastal decor is by using it as a centerpiece for your dining table or coffee table. You can also use it to create a beautiful wall art display by arranging different sized pieces in an interesting pattern. Similarly, shells can be used in various ways; they make great accents for candles or vases or can be placed in glass jars for a simple yet charming display.
Nautical Touches: Anchors and Rope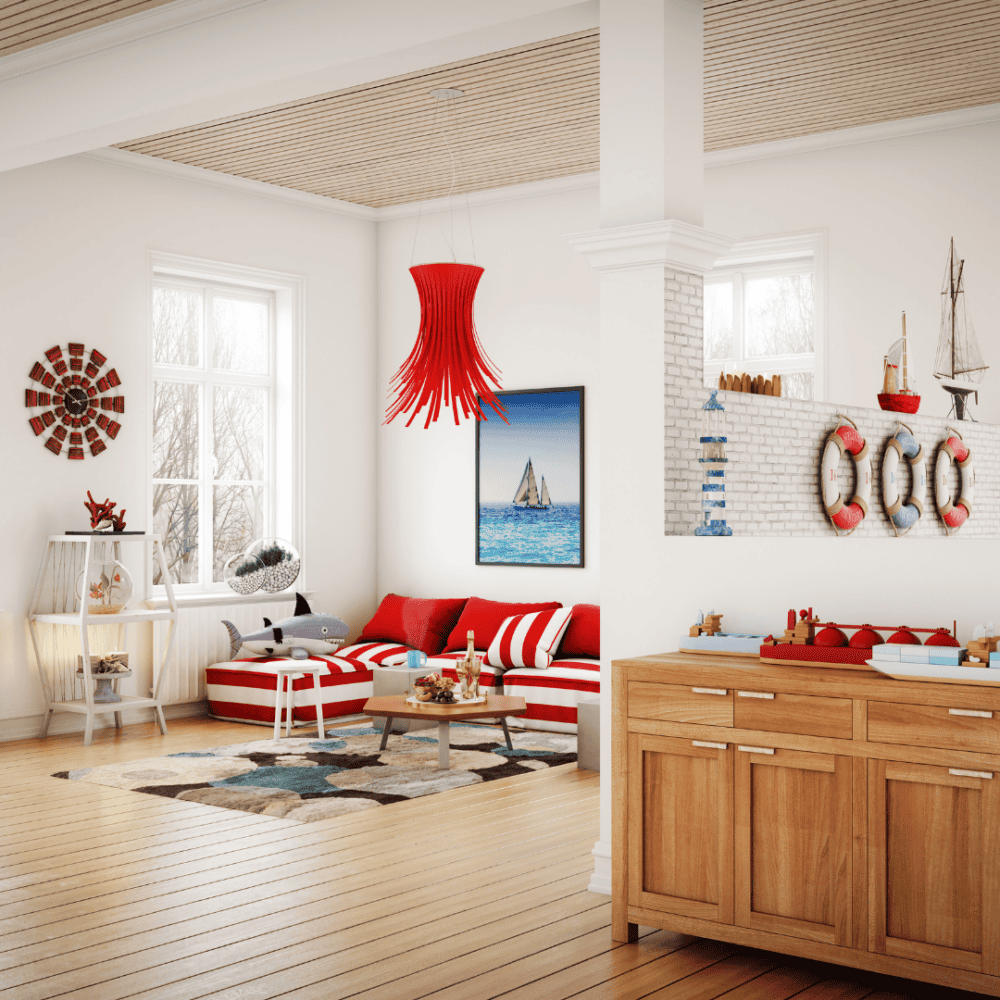 Nautical touches to your home decor is a must If you are a fan of the beach and love the coastal feel. Anchors and rope are two classic elements that can help you achieve the perfect coastal look. Here are some of the best ideas for incorporating these details into your decor.
Firstly, consider using an anchor as a statement piece in your room. You can hang it on the wall or wooden beams if available or even use it as a bookend on your shelves. Alternatively, if you have an old wooden one lying around, a great example would be to turn it into a coffee table? It will make for an eye-catching centerpiece and focal point and give your living room that beachy style vibe you've been looking for.
Another way to incorporate anchors and rope into your decor is through textiles and natural fabrics. Look for pillows or use slipcovers and blankets with nautical motifs such as ropes or anchors.
Nautical inspired vases & pots
Coastal decor is a timeless trend that brings the beach vibes to your home. If you're looking for a way to incorporate the nautical theme into your interior design, there's no better place to start than with vases and pots. These versatile pieces can be used as standalone decorative items or filled with flowers and plants for a fresh, natural look.
The best coastal decor ideas involve using colors and materials that are reminiscent of the ocean. Blue, white, and turquoise are popular choices that evoke feelings of calmness and serenity. Whether you opt for ceramic or glass vessels, make sure they have unique shapes and textures that add interest to your space. Seashell motifs or rope accents can also give your vases and pots an authentic beachy vibe.
In addition to being aesthetically pleasing, nautical-inspired vases and pots can also serve as functional storage solutions.
Beach-Inspired Textures: Wicker and Linen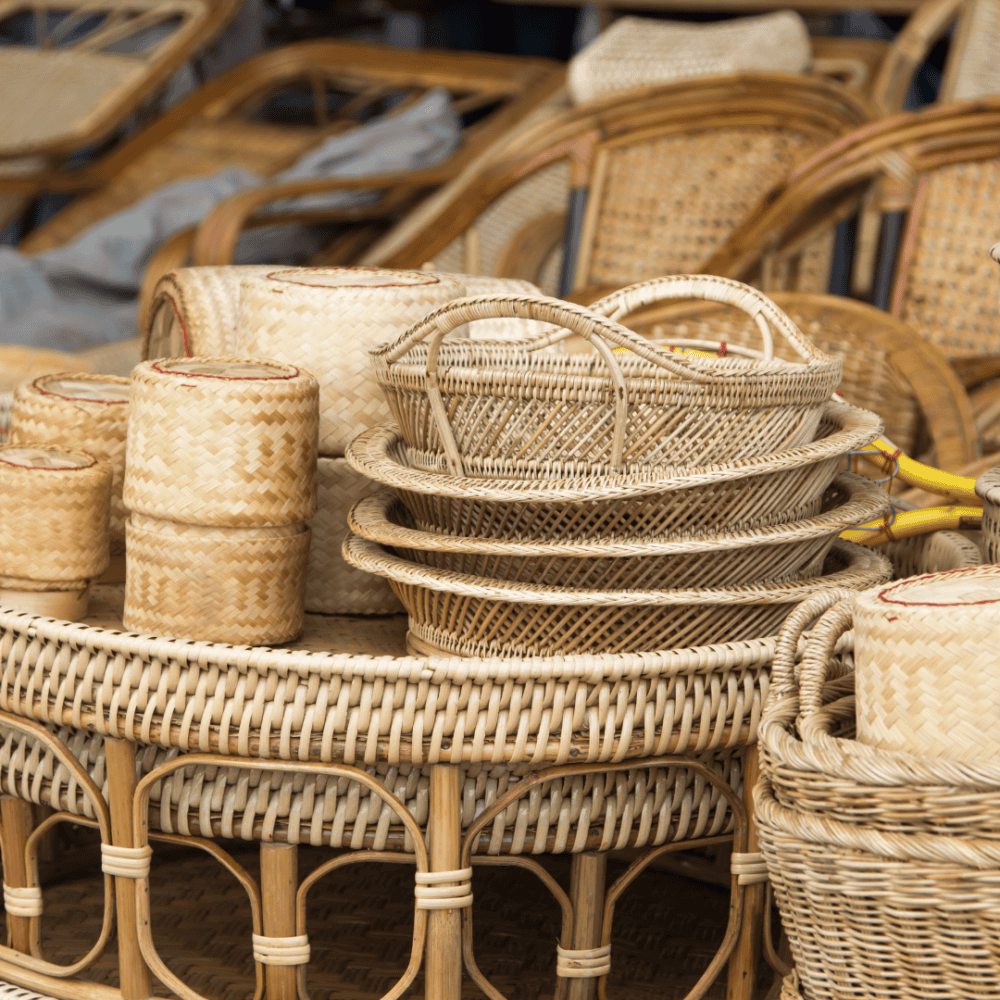 When it comes to some of the best coastal decor ideas, few textures evoke the feeling of a warm summer day at the beach like wicker and linen. These natural materials have been staples in beach-inspired homes for decades, adding texture and warmth to any space. Whether you're decorating a living room or a bedroom, incorporating these materials will create a calming ambiance that's perfect for relaxing.
Wicker is one of the most popular textures for coastal decor. This material has an organic feel that complements other natural elements such as wood and stone. Wicker furniture also rattan chairs can be used both indoors and outdoors, making it versatile enough to use throughout your home. From chairs and side tables to baskets and storage benches, there are plenty of options when it comes to incorporating wicker into your decor scheme.
Linen in crisp whites are another must-have texture for beach-inspired interiors and large windows helping to creating natural light.
DIY Coastal Decor Projects
If you're looking for some creative inspiration to jazz up your home, then try adding a little coastal charm. Whether you live near the beach or not, there's something about the seaside that immediately brings a sense of tranquillity and relaxation. And while buying ready-made decor can be expensive, creating your own DIY coastal decor projects is a much more affordable way to bring the beach into your home.
One of the best coastal decor ideas is using seashells. Seashells are abundant along any coastline and make great decorations when used creatively. You could fill glass jars with different shells and display them on shelves or tables, or use them in wreaths and garlands. Another idea is to create a beach-inspired centerpiece by filling large glass bowls with sand and shells. These easy projects will add an instant touch of seaside charm to any room in your house.
Bringing the Coast to Your Home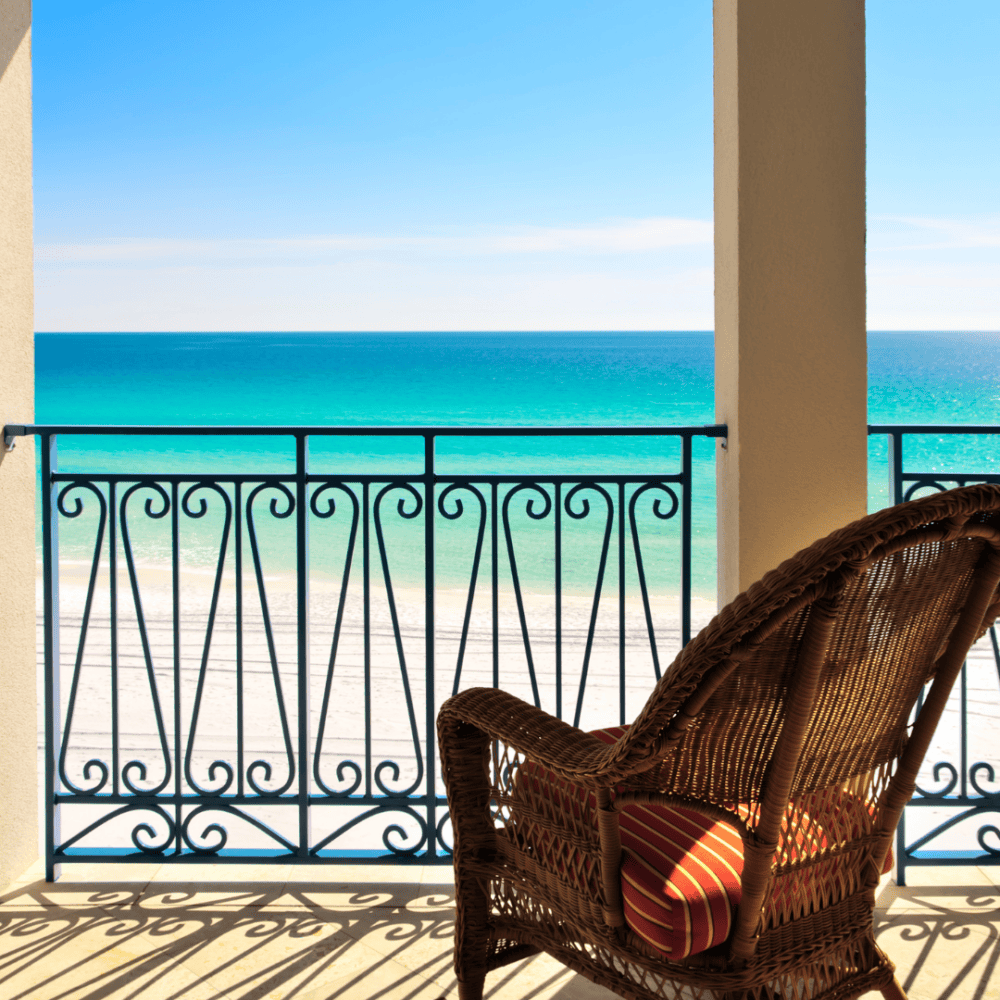 Bringing the coast to your home is one of the best ways to create a serene and tranquil environment. With the right coastal decor ideas, you can transform any part of your home into a beach oasis that will soothe your soul. Whether you live near the coast or miles away from it, incorporating coastal-themed elements in your home decor can give you a sense of calmness and relaxation.
One of the best coastal decor ideas is to incorporate natural materials like bamboo, rattan, and natural fiber rugs with your furniture and accessories. These materials add texture and warmth to your space while bringing in an earthy home feel vibe that complements the beach theme. You can also use seashells, driftwood pieces, and coral as accents on bookshelves or coffee tables for a more authentic feel. Coastal-inspired artwork like ocean waves landscapes or surfboard prints can also tie together the overall look of your space.
Conclusion
In conclusion, decorating your home with a coastal theme can bring the tranquility and calmness of the ocean right into your living space. We have taken a look at some of the best coastal decor ideas that you can easily incorporate into your home. These decor tips are not only budget-friendly but also easy to achieve even if you are not all interior designers
From nautical themed throws, pillows and a sisal rug plus beach-inspired wall art to sea glass vases and driftwood sculptures, there is no shortage of creativity when it comes to decorating with a coastal color palette or theme. Combining different textures such as natural fibers like jute or woven baskets can add depth and interest to any room. Additionally, incorporating light blue hues, sandy beaches beige tones, and crisp white accents will accentuate the sea-inspired vibe in your home which can only adds to the modern coastal look you are hoping to achieve.